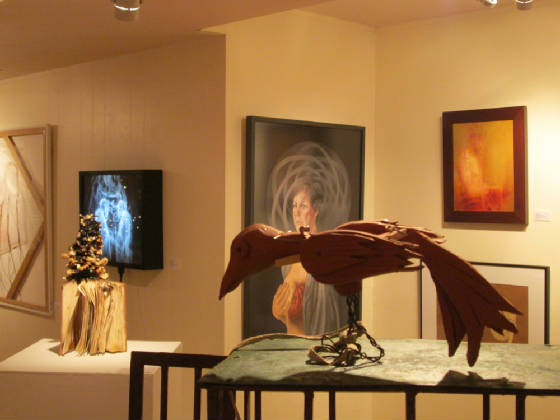 Exhibition view of my piece "Metamorphosis"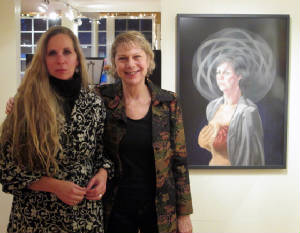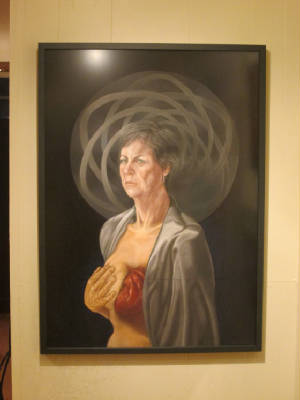 Gallerist, Jennifer G. Cutshall & me with my piece,"Metamorphosis"
PASSAGE EXHIBITION opens Saturday, January 10th, 2015
reception 5 -8 p.m.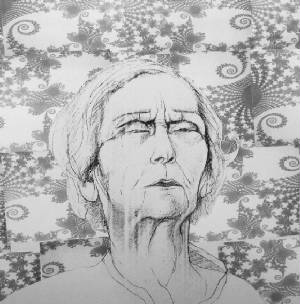 "Passage" pencil/mixed media/collage
"I had the fortune to sketch my mother in the final days of her life. She was a willing and enthusiastic model. Since her passing, I have developed this poignant image, inspired by emotion and vivid memories."
Rebecca Gabriel
Jonah Bornstein What do I sense here? The artist states this drawing was accomplished in her mother's final days. For me, there is a profound concentration. The background reflects a melding with the cosmos beyond her, or perhaps it's the cosmos inside projected outward. In either case it's an amazing reflection on the beauty generating by life near death.

Jacob Bornstein Wow. This peace is ethereal, like the bridge between life and the other side.

"The Subject Is War" National Juried Competition
Wiseman Gallery 10/2014-12/2014
Rogue Community College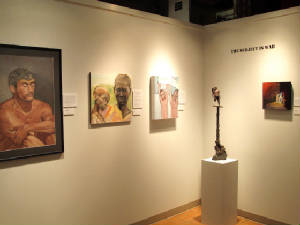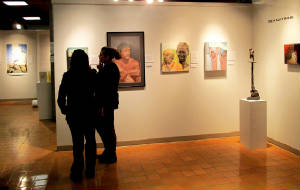 "The Soldier" - pastel painting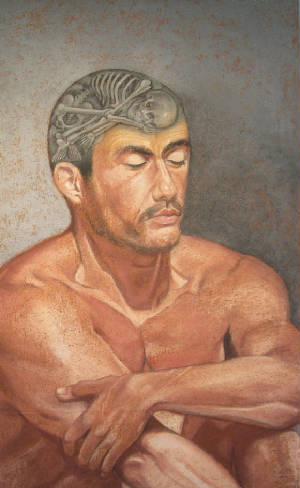 In my piece, "The Soldier," I have placed a skeleton, lying in a fetal position, within the area of the brain cavity. The gray convoluted shape of the bones, is simultaneously enclosed and exposed within the confines of the subject's mind, mirroring the anatomy of the human brain. The subject is deeply concentrating on eminent mortality with closed eyes. The painting portrays reflection on sacrifice, mortality, and the fragility of life; which defines the human scope of every war.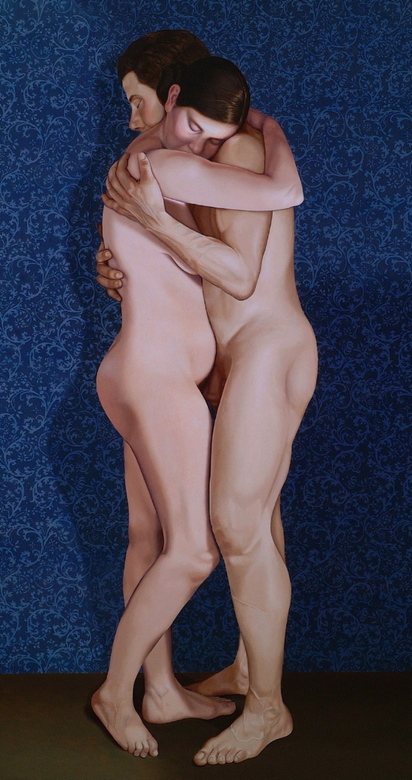 "Lovers" Rebecca Gabriel, oil painting on canvas, 36" x 60"
Gallerie Karon - group exhibition May-June 2015
Ashland - Oregon